The life sciences industry needs to comply with various stringent government regulations, regardless of countries where they operate. Given the complexity, and ever evolving nature of regulations, it is a daunting task for the life sciences industry to sync with the dynamic regulations.

The key factor to be successful in business and regulatory compliance era, life sciences and pharmaceutical companies need to have a robust compliance framework that complies with these requirements not only for initial implementation, but subsequent compliance sustenance. Quality Management and Regulatory Compliance services from KATSI Canada are designed to help our customers address these issues and to standardize and improve the V&V and compliance processes.

We are regulatory compliance experts, and have extensive experience in systems & process validation life cycle management and implementation in compliance with global regulatory requirements, including FDA 21 CFR Part 11, FDA 21 CFR Part 820 QSR, ISO 13485, IEC 62304, ISO 14971, and 45 CFR Part 164 (HIPAA).

We have developed a lean, structured, mature and scalable IT Compliance Support Framework that helps our customers meet their regulatory schedules and budgets by utilizing a risk-based approach to compliance, ensure any system or equipment developed/deployed are compliant with applicable regulations and stand up to any regulatory body inspections.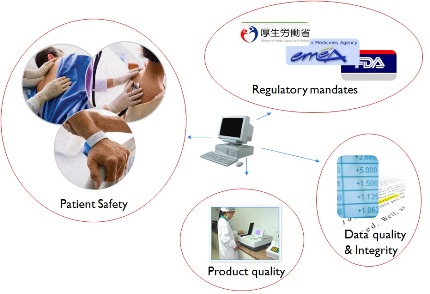 We offer whole gamut of services including strategic consultancy, and tactical services. Our services in the quality management and regulatory compliance area encompass:

Strategic Consulting

including

Compliance Gap analysis and Process Improvement
Implementation of GAMP 5 & Risk based Process Model for Compliance
Standardizing and Harmonizing Validation Processes Across Multiple Sites
Data Privacy and Protection (US/EU)
GxP System Inventory and Portfolio Analysis
Development of SOPs and Process Guidelines
Implementation of Quality Management System (FDA QSR / ISO)
Sarbanes–Oxley and Information Technology Governance
Root Cause Analysis & Corrective Action/Preventive Action (CAPA)
Audits and Assessment Services, including Quality Management System Audits / Mock Inspections, FDA Compliance Rediness, Vendor Audits and Training
FDA 21 CFR Part 11 Compliance (Electronic Records & Signature)

:

Gap Analysis and System Assessments
Risk Analysis
Remediation (corrective action) Planning and Transformation
Compliance to IEC 62304 (Medical Device Software Lifecycle)

HIPAA Compliance & Remediation
Computer Systems/Software Validation based on FDA regulations
Validation Planning
Requirements Analysis and Traceability
Risk and Compliance Assessments
Validation Protocol Development
Development and Execution of Test Scenarios and Cases
Project Management
Compliance Monitoring, Measurement and Reporting
SOP Creation, Review & Roll-out
Configuration Management and Change Control
Periodic Reviews of Validated State of Computer Systems/Software
Computer Systems Infrastructure / Network Qualification